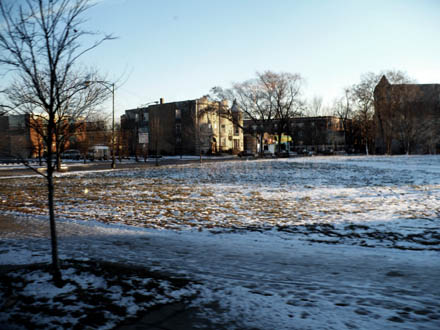 It has slowly dawned on me that a huge number of universities came by their premises, by which I don't mean their philosophical axioms but their physical environments, in exceedingly peculiar ways. Some of what follows below is hearsay and I don't really have time to do historical research. But there's more odd variation here than one might have predicted.
The Danish School of Education occupies a building that, I'm told, was during World War II the Nazi museum of Scandinavian folk cultures. (This apparently had something to do with creating an Aryan heritage, though I gather that Germans at the time were hard pressed to pass themselves off as more Aryan than the Scandinavians!)
Cornell University: Was once a farm (albeit financed by the massive business success of Western Union's telegraph operation in the 1850s). University of Connecticut: likewise was once a farm.
The University of Paris-8 used to be in Vincennes but was forced to move to Saint-Denis in 1980, and all its original buildings were demolished on the government's pretext that it was a den of drug dealers (according to a film I saw).