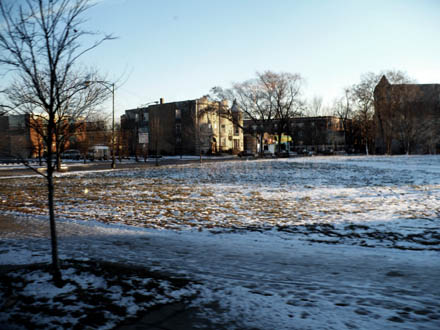 It has slowly dawned on me that a huge number of universities came by their premises, by which I don't mean their philosophical axioms but their physical environments, in exceedingly peculiar ways. Some of what follows below is hearsay and I don't really have time to do historical research. But there's more odd variation here than one might have predicted.
If per French myth little boys come from cabbages and little girls from roses, then here I suppose we might conclude that little universities come from farmlands and slum demolitions while little colleges come from royal charters and spare military headquarters… which are delivered from the sky by storks, no doubt. Seriously, though, just this little sample suggests that many universities come to exist through absurd and somewhat disturbing circumstances, ones that don't make it sufficiently into our theories of the university. Can one find in any existing philosophical concept of the university – Kant's Conflict of the Faculties, for instance – the merest hint that universities would be involved in sometimes surprisingly massive projects of urban dislocation, in urban destruction that can only so very optimistically be called "creative"?
These historical absurdities in the origins of academic institutions aren't to be sloughed off; they can teach us something important about the irrational kernel that lies at the core of seemingly neat institutional teleologies. My point is not, mind you, that universities are to be understood as pure historical accidents, purely random organizational conglomerates. Kant's aforementioned book starts out by saying: "Whenever a man-made institution is based on an Idea of reason (such as that of a government) which is to prove itself practical in an object of experience (such as the entire field of learning at the time), we can take it for granted that the experiment was made according to some principle contained in reason, even if only obscurely, and some plan based on it–not by merely contingent collections and arbitrary collections of cases that have occurred." And indeed, it's true that there are always principles of organization, "ideas of reason" if you're inclined to call them that, at work in university organization. The purpose of looking at the oddly arbitrary origins of universities is hence not to discount university structure, but to show how this structure is constantly hiding and appropriating the little historical mistakes (or sometimes calamities) that set it in motion.
The picture I started out with is an empty lot a mile to the west of the University of Chicago. Did you guess that this scrubby patch of worn snow is adjacent to one of the nation's richest institutions of higher learning?