I'm sorry to see I haven't posted a thing in a month. That should change rapidly as I get back into the swing of fieldwork. Starting a second year of research feels quite different from starting a first year; the language is somewhat less problematic, the campus feels familiar, and there are a lot of people to greet. If anything, people seem a bit surprised I've stuck around more than a few months, which says a lot about the kinds of scripts that people expect to follow in research relationships here. I don't think I'm the only ethnographer who's had this experience; Amelia Fay wrote of her work in Newfoundland: "My repeated presence in the community seems to have separated me from other researchers, who come in, take what they need and never return… People here are starting to recognize me more, trust me and welcome me. It's taking a long time to build this relationship but I'm finding it so rewarding." I don't know if I could bring myself to express it quite so forthrightly, but that does sound familiar.
The logistics of being a temporary visitor to a foreign country continue to frustrate, it has to be said. Here's the view from the new apartment: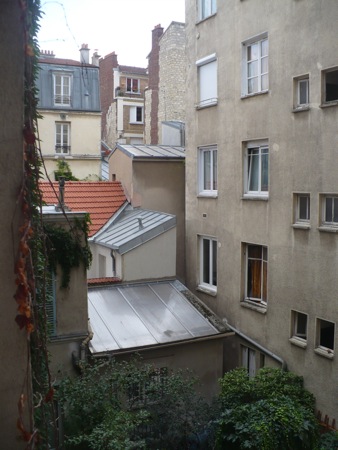 Alas, the place is too expensive to hold onto, and, somewhat against my better judgment, I'm moving into a big dorm complex for the rest of the fall. It's not going to be the most pleasant place to live, but after all, all the famous ethnographers of universities seem to have lived in a dorm at one time or another. Admittedly, my research isn't mainly about student domestic life, but I think it may be interesting to have some acquaintance with it.
Luckily, I have some work space to escape to, at the University of Chicago's building in France.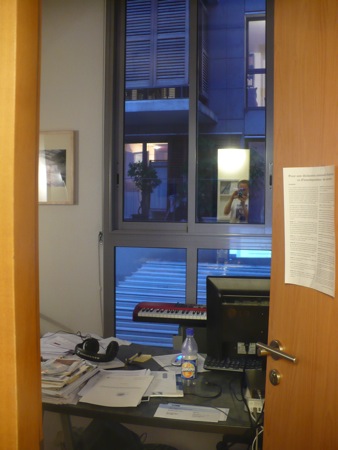 It's a bit strange having more office space than most tenured faculty at my fieldsite, which is a commentary in itself on the intense inadequacy of financial and material resources in French public universities.
Anyway, I have a lot of things to write about. More coming soon.