Last weekend, under the auspices of a program called European Heritage Days, I went on a tour of the offices of the Minister of Higher Education. I've been in the building before for various academic events, but, unsurprisingly, the part that has the Minister's office is separate from the part that ordinary visitors usually see.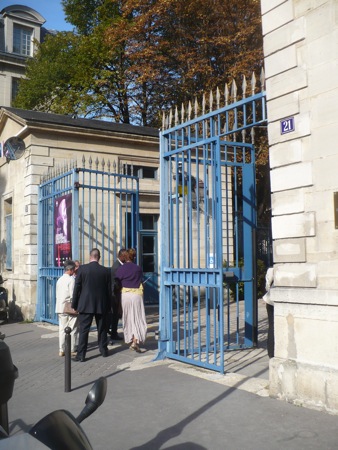 This gate isn't normally open to the public. There was something vaguely contradictory about the staff's relation with the public, like in an art museum where they're there to smile at you but also to protect the place against you. At this gate, two people stood watch in suits: one of them was radiant and tried to persuade every passing person to come visit; the other (back to the camera) seemed silent and kept watch.
Farther inside the premises, there were security guards stationed at every corner. I suspect that they don't patrol that heavily on usual days, since the workers seemed unfamiliar with each other. I overheard one guard asking another, "What was the name of that guy downstairs, again?" "Umm, no idea."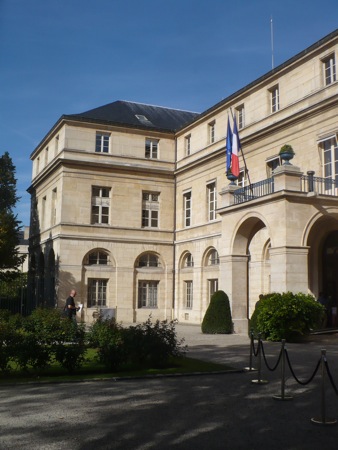 This, the building where the Minister has her office, is what I would describe as standard French government architecture. Pale stone, French and European flags. Leaping arches, solemn columns. The decoration is more than merely functional, but not ostentatious.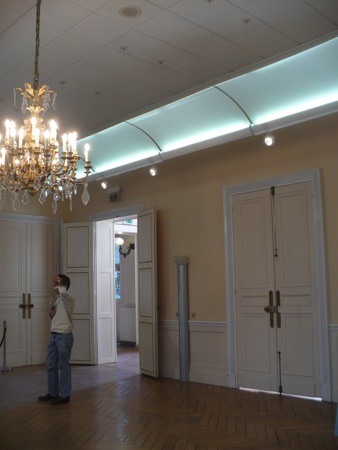 The first room you saw inside was this, apparently a place where they hold press conferences and the like. I noticed that the decor combined very traditional features like a parquet floor and a chandelier with very businesslike, modern features like a tiled ceiling and little spotlights. I guess that's how you try to be modern while retaining the aura of past forms of architectural dignity.
Continue reading "In the Minister's office" →