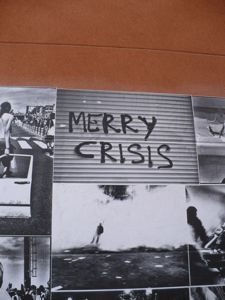 A sudden piece of English text inserted in the middle of an exhibition of political photographs at my field site. Paris-8. A charming metacommentary on global reality. Merry crisis!
If you wanted to describe this image in the most basic descriptive language you could say: this is a photo of a photo of a graffiti tag set among other photos, photos of people bloody in protests, of police in riot gear lines, of people running and throwing things, of people invisible in showers of light. See that flood of white in the photo immediately beneath Merry Crisis? With the figure askew and silhouetted? I have no idea what that is. But I do comprehend that this is a collage of leftist protest culture, aestheticized in the genre of an art photo exhibition, and further recontextualized in the form of political statement attached on the outside of Paris-8's Bâtiment B2. Paris-8 is a university with an enormous visual text taped and sprayed across its walls. Campus buildings frequently have deteriorated walls, just from the sheer number of signs (affiches) that have been put up and torn up and torn down. It's the kind of place where images, like this one, are not only compound visual objects (referencing other visual objects and visual genres), but are units in an overwhelming student reappropriation of academic space, a culture of defacement of the corridors that someone jealous of property rights might call vandalism with a political alibi.
This defacement has limits, though, being essentially restrained to surfaces within arm's reach of the ground. The buildings themselves tell a different story.
Continue reading "Visual culture and institutional difference: Paris-8 & the Sorbonne" →