I've been reading lately about the French Women's Liberation Movement, which had its first public event in 1970, at the University of Paris 8, which would become my primary French fieldsite. In its early days, the university was called the Centre Universitaire Expérimental de Vincennes (Experimental University Center at Vincennes). It was located east of Paris amidst the woods of a major city park. It was notorious for overcrowding. It was notorious for far-left activist "frenzy," which stemmed from the political movements of 1968.
I was not surprised to find out that in the 1970s, sexism and rape culture were major problems among the male-dominated French far left. They remain issues on French campuses today.
But I was nevertheless dismayed by men's grotesque responses to an early feminist meeting at Vincennes. Men were asked to leave a women-only meeting (accounts differ as to when this request was made). But the men balked at leaving the room, instead attacking the women, insulting their intellects, their politics, their credibility, their sexuality, and their legitimacy.
The male insults were recorded in a subsequent feminist tract, "Verbal abuse at Vincennes," which was reproduced in Jean-Michel Djian's Vincennes: Une aventure de la pensée critique.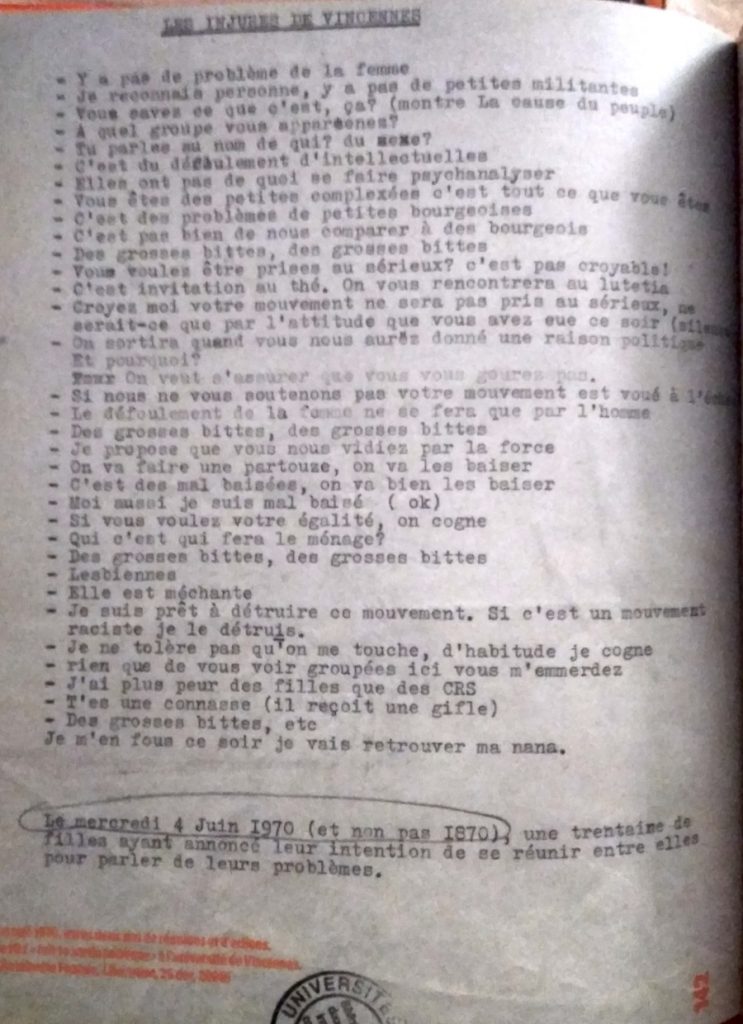 The context, according to the tract: "On Wednesday June 4 1970 (and not 1870), thirty girls had announced their intention to meet among themselves to talk about their problems."
I've translated many of the insults that emerged.
There's no woman problem
I don't see anyone I know, no little girl activists
What group are you with?
You speak in whose name? In the name of sex?
The catharsis of lady intellectuals
They don't have what it takes to get psychoanalyzed
You're little girls with complexes and that's all you are
It's petty bourgeois problems
It's no good to compare us to the bourgeois
Big dicks, big dicks [des grosses bittes]

You want to get taken seriously? It's unreal
Believe me, your movement won't get taken seriously, given the attitude you had tonight (silence)
We'll leave once you give us a political reason. [Why?] We want to make sure you don't screw up.
A woman's catharsis can only come from a man
If we don't support you, your movement is bound to fail
Big dicks, big dicks

I propose that you remove us by force
They're sex-starved, we'll give them a good lay [C'est des mal baisées, on va bien les baiser]

If you want your equality, let's screw
But who's going to clean up after you?
Big dicks, big dicks [des grosses bittes]
Lesbians
She's naughty
Just seeing you grouped together pisses me off
I'm more scared of girls than of riot cops
You're a cunt (he gets a slap in the face)
Big dicks, etc
I'm not sure I have the words to comment right now on what this says about the sexist culture of the French far left in the 1970s. It's more than depressing, more than awful, more than politically outrageous. Also it's beyond arrogant and beyond juvenile in its practices of sexist objectification.
The month after this, a feminist statement was published, called "Against male terrorism." I haven't been able to find the document, but according to Joëlle Guimier's new analysis of "The difficult life of women at Vincennes," the text declared that "In our liberation, men have nothing to lose but their alienation." That seems like a surprisingly generous reading under the circumstances.
---
Edit: I originally wrote in this post that the meeting had been advertised as a women-only meeting. One French interlocutor reports that it was initially not unspecified, and only announced as women-only ("non-mixte") as a result of men's masculinist conduct during it. I have not been able to resolve the conflicting accounts of this point.