The places where we live during fieldwork can be so strange. Even in the best of circumstances.
My first summer in France I had a sublet for eight weeks. It wasn't a place that made a lasting impression on me, but I just came across a list of rules and guidelines that I sent to an American grad student who needed a place to stay for a week.
I wasn't in town at the time, so I sent him a comically long list of instructions. I guess I was trying to put down everything I knew in writing. It turns out to be a good reminder of all the details of everyday life.
The first problem was getting my friend the key.
OK, so it turns out that Duff [our mutual friend] is in Paris for a couple weeks, visiting his parents, and I think I'm going to leave my key with him. It should be a little easier for you to pick it up that way, even if you show up at some odd hour or whatever.
Then I gave a long list of considerations.
Here's a list of practical stuff to know about the apartment:
Getting here

Roommates' names: Christophe (cell: 06 xx xx xx xx), Siegfried (cell: 06 xx xx xx xx), Ann (from Luxembourg). Not sure of their schedules — Christophe at least is coming home sometime next Tues or Weds. I don't know how their English is but they probably speak at least a little!
Address: 1xx Blvd de Magenta. Nearest metro stop: Barbès-Rochechouart. (From the metro, go straight south on Blvd de Magenta and it's on yr left in like 30m.)
To enter the apartment: you enter a code to open the outside door (which is large and wooden — it is also the egress for a garage). The code: B5048. The lock will click open (this is standard procedure for Paris, i don't know if you're familiar). Once inside, you take a right into the stairwell, hit the light switch if it's off, climb two flights of musky-smelling stairs to the second floor (in America it would be called the third floor, but in France the ground floor is called 0, as you probably also know). You'll see two apartments. Ours is the one directly across from the elevator, and you'll recognize it by the "rêve général" sticker on it.
The latch on our front door takes a wee bit of getting used to. The key only goes in one way up (it will not enter the lock if it's upside down). Then, counterintuitively, you must you be pushing the key in while you turn it. Sometimes you have to pull the door towards you with the handle, also. Don't worry, this will all makes sense when you try it, I think.
It's like I was trying to provide just enough information about French culture and urban geography to help someone navigate the environment.
Once inside the apartment
In case you get here and there is no one to show you around… my room is the one at the far end of the hall, across from the kitchen and next to the bathroom! I'll leave some bedding. Try not to be too loud on the floor late at night — apparently it creaks like mad in the apartment below ours.
Kitchen is all yours — my allotted shelf in the fridge was second from the top and my cupboard was the top one in the left-hand cabinet, in case you wanted to store food. Stove and dishes are pretty straightforward, and people share the usual spices, oil, a few dry goods like flour, etc. Basically if it's near the stove or sink it's cool to use.
There's an ethernet cable for internet on the desk. Not sure about wifi.
Small supermarket ('monop') is just outside the house, two doors down. Open late if you're hungry. Bad selection but quick. Also if you want takeout, I happen to be partial to sandwich grec (ie, gyros), and you can find a million Turkish restaurants just north-west of the house on Rue de Clignancourt. Finally, if you go down near the gare du nord, a bunch of shops and restaurants are open at all hours, even sunday when most stuff is closed.
To EXIT the apartment: if someone else has locked the door, you have to unlock it from the inside with the key. (This confused me the first day i lived here.) Then to latch the door, you have to open the latch with your key while you shut it. (It's apparently really bad for the lock to shut the door without holding the latch open.) Obviously, you should also lock up if no one else is home!
Washing machine by the sink. Drying racks in bathroom and living room. Detergent in my room if you need it!
You should shut the bedroom window if you go out — it can rain and even if it doesn't, the kitchen window is often open, which creates powerful cross-currents that will probably slam the doors in between.
The shared agreement of the apartment is that if something runs out (toilet paper, whatever) you should take your turn replacing it. Don't sweat this too much, you won't be there long.
It's good to take out the trash though if you think of it… trash can's in to the courtyard (through the double inner doors across from the outer door of the building).
In case of some type of emergency… the water shutoff is in the kitchen by the sink; hot water heater above the sink; electricity cutoff in the back closet of Christophe's bedroom, which is across from the living room.
You can see a whole domestic order starting to take place, with rules for sharing, rules for using appliances, rules for how to make noise, rules for how to shut the windows… None of these were like legal strictures. They were just shared understandings.
Incidentally, here's what my subleased room looked like. Most of the stuff wasn't mine.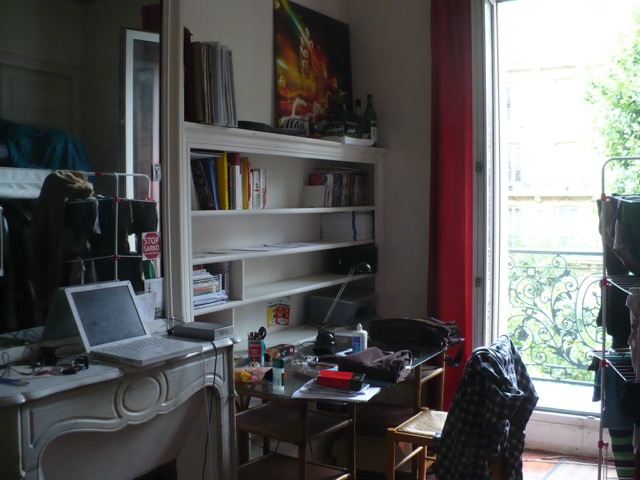 This was the kitchen.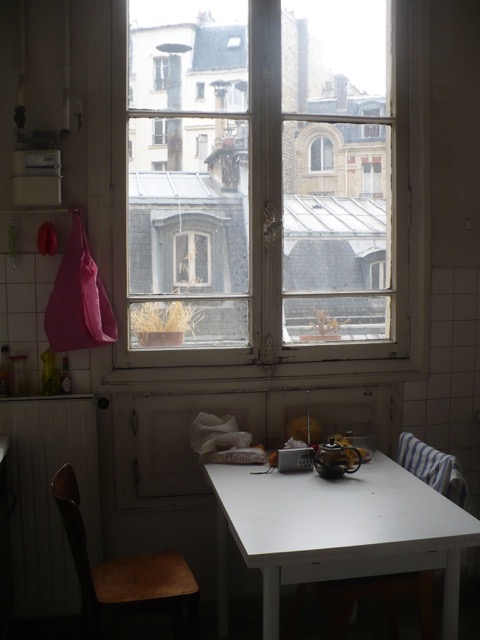 I ended my instructions with a little bit of tourist information.
The bedroom's balcony is awesome for watching the street, with a good view of Sacré Coeur at night. I recommend the view from the top of Sacré Coeur if you haven't been up there, in spite of the throngs of tourists. Other places I highly recommend in Paris: Parc de Belleville also has a stupendous view of town and no tourists; Parc de St-Cloud, near the end of metro 9 and 10 and technically outside the city limits, is beautiful and quiet and you can walk for hours in the woods. And basically everywhere without tourists is a much more interesting place to walk around on the street (19th and 20th arrondissements are good for that). Across the street from our house is the beginning of the Rue de Faubourg Poisonnière, which is a good little street to walk south on.
If you read all this, you get the idea that it wasn't a bad place to live.
But when I remember living in this place, what I remember is mostly the extreme solitude of early fieldwork. I liked my roommates, especially Christophe, but they were never home. It was summer, so my research sites in French universities were closed down, and I didn't have much to do. I remember staying up until the middle of the night and cooking greasy food by myself. I obviously liked going for walks, which evoked this whole tradition of exploring Paris by foot. But then, there are so many racial, class, and gender politics on the Paris streets. To explore Paris without being hassled by the police for your skin color is already a form of white privilege, I would have to say.