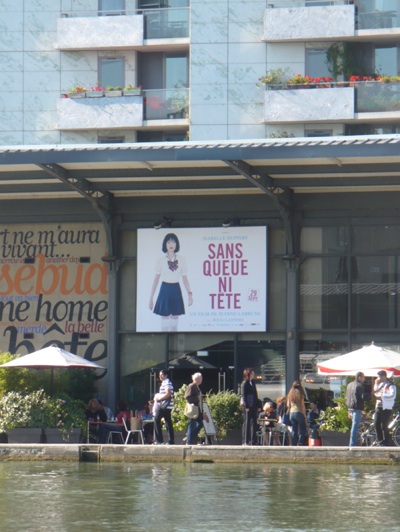 A poster for a film that was apparently about the exploitation of women. I saw it across the canal from our interview.
One time I was interviewing a feminist activist, a friend of mine who had been in France a few years, who originally came from Brazil. At one point, we talked about the connection between her relationship with her boyfriend and her politics. It was interesting and sad.
Un des points difficiles était le féminisme, elle dit.
– Il dit que je suis devenue obsédée par l'oppression des femmes, que je la vois partout, que je ne vois que ça, que je ne pense qu'à ça.
– C'est ridicule ça, je dis.
– Enfin, elle continue, je suis de plus en plus deçue qu'il réagit comme ça… L'oppression des femmes est partout.
– Il est militant comme toi ?
– Ben il n'est pas militant mais il est de gauche et nous sommes d'accords sur plein de questions…


Feminism had become a major issue for them, she told me.
"He says that I've become obsessed by the oppression of women, that I say it everywhere, that I can't see anything else, that I don't think about anything else."
"That's ridiculous!" I say.
"In the end," she continues, "I'm more and more disappointed that that's how he reacts… The oppression of women is everywhere."
"Is he an activist like you?" I ask.
"Well, he's not an activist, but he's on the left, and we agree about a lot…"
He had gone back to Brazil before her, and she said she was going to see him, but that she wasn't sure what would happen. I need to rediscover myself, she said, to be independent. We are absolutely dependent.
We talked a while longer about activism at Paris 8, but she eventually had to hurry to get to an NPA meeting in Paris.