If you want to get a sense of the overall institutional situation of French universities, it helps to look at how many French students are studying what. In this post I just want to present a basic, broad overview of the situation.
There's a lot to see here. You can see what sociologists call the "second massification" of the universities, a period of major growth from something like 1985-1995. Almost every discipline is rising. The largest disciplines are not, actually, the ones with the most growth. That dubious honor goes to the field called STAPS, which stands for Sciences et Techniques des Activités Physiques et Sportives, which we could translate loosely as Athletic Sciences. STAPS grew from 10,947 enrolled students in 1979 to 41553 in 2005 — a 3.8-fold increase! The similarly tiny fields of dentistry (odontologie) and pharmacy, on the other hand, actually shrunk, though you can barely see them because they get lost in the bottom of the graph.
Let's look more closely at the major disciplines. Letters and human sciences here are labeled lettres; they'd probably be called humanities and social sciences in the U.S. Anyway, it's striking that they constitute the largest sector of French higher education, with around half a million enrollees. They have almost doubled in size since the 1980s, though they have also been in a steady, slow absolute decline since the mid-nineties. The sciences are smaller, but show a similar trend. The business-oriented disciplines of Eco (here short for Sciences Economiques) and Admin (Administration économique et sociale) have grown somewhat more, by a factor of 2.7, and seem to have on the whole one of the most consistent, steady rises of any field. Law (droit), which presumably leads to both private and public-sector careers but at any rate to a secure professional identity, has grown somewhat and leveled off, while its cousin medicine has on the whole slightly declined. (Law and medicine are the two most traditional professional fields in the traditional French university.)
To get a better sense of the changing demographic composition of these enrollments, it's helpful to look at a chart that shows each discipline's proportional share of university students: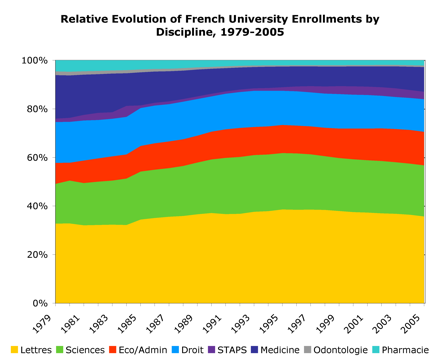 The wider the band, the larger a discipline's share of the university's student body… Here you can see that medicine and pharmacy have greatly declined, leaving space for every other field to broaden. In terms of absolute numbers, mind you, medicine and pharmacy are about where they were, 140,000ish in medicine and 30,000ish in pharmacy; but as a share of the university as a whole, they are dwindling.
Something that really strikes me, looking at this diagram, is that letters and human sciences are not even in a state of proportional decline within the university system. In fact they have grown a bit. Of course, if we look further at the internal distributions within the human sciences, we'll find that the growth is preferentially concentrated in new vocationally-oriented disciplines (educational sciences, for example). I'll look at that in a future post. But it's striking to see growth in these fields, which are the exact ones not considered "future-oriented" by contemporary "knowledge society" policymakers.
For another point of comparison, it's helpful to look at the disciplinary distribution of degrees actually awarded: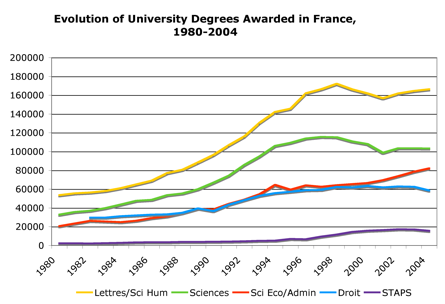 The magnitude of these figures is much lower, three times lower or so; that's unsurprising since we can assume that it takes a few years of enrollment for students to get a degree, and some drop out along the way. (This graph, unfortunately, lacks the medical fields listed on the other one.) Anyway, the basic distribution is similar, with letters and human sciences at the top, sciences above that, and then law and econ. I note that the "peak" in letters and sciences is a year or two later on this graph – 1998 instead of 1995. Needless to say, that's what we would expect and want to see, since that indicates that, indeed, a couple of years separate the entrance of a big group of students from the time when this group gets its degrees. (I'm also struck, in passing, by the fact that law and econ/admin track each other much more closely on this graph than on the other one; I don't have a good explanation for that right now.)
To really understand what's going on in French higher ed, however, we have to look at the place of the university system within the broader higher educational landscape, which has a million kinds of technical schools, private schools, art and architecture schools, specialized teacher training institutes (now being demolished or integrated into the universities, depending on your point of view), and the like. The first thing to do is see how much of the total higher ed world is encompassed by the public university system we've been looking at: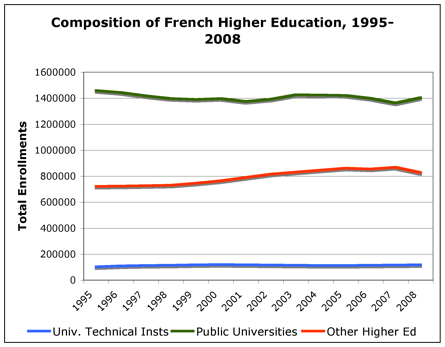 As you can see, the public universities continue to serve the vast majority of university students. (Note that the "University Technical Institutes" mentioned here are actually part of the universities, and are included in their total size; the blue line just indicates a subsection of the population tracked by the green line.) Nonetheless, university enrollments are in what looks like a slow decline, while other higher educational institutes are slowly rising. (I actually don't know what explains the sudden dip in "Other Higher Ed" in 2008 and the slight rise in the universities; there could be some organizational restructuring that would account for it.)
Now, to get a clearer idea of what people across the French higher ed system are studying, we can consider a graph that shows changing proportions of total enrollments across different university and non-university sectors: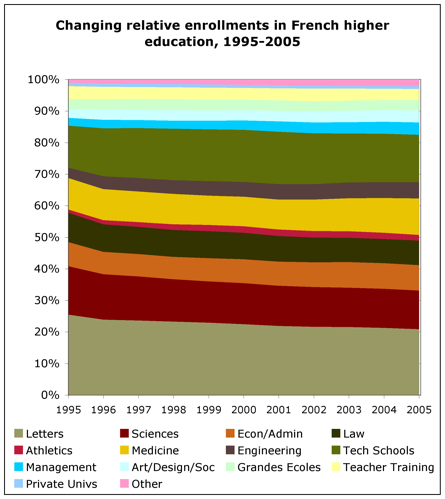 The bottom segments designate the university fields we looked at earlier – letters, sciences, economics/administration, law. The top segments designate different fields from the non-university world — tech schools, teacher training, art and architecture and social services, pure management schools (I should probably have just labeled them "business schools"; they're mostly private schools), the tiny private university sector, etc. I did make one mistake here, actually, which was to lump all health-related fields together; this means that medicine, a university field, is put together with paramedical training, which are taught elsewhere. This does help us to see that health fields as a whole are rather large, even if medicine itself isn't growing much (as indicated above).
One thing that this chart shows us very clearly is that, looking at the system as a whole, the letters, human sciences, and sciences are in relative decline. Of course as a matter of absolute numbers, almost everything has grown, as we saw above. But the major relative growth here seems to be in tech schools, maybe in some aspects of health sciences, in engineering, in management. That doesn't mean these fields are demographically dominant; they're not. But their share of the students is rising.
In future posts on these demographic issues, which I'm only just beginning to really understand, I want to look at the changing class composition of university students; I want to look at the changing makeup of the disciplines within letters and human sciences; and I'd like to compare the progress of vocationally-oriented higher ed with its status in the U.S. Are business schools proportionally bigger in the U.S. than in France, for example? That would be my guess.
p.s. — if you have ideas on how to make the presentation of these necessarily abstract demographic questions any more, well, exciting, I am actively interested in that!