If you go into the Enrico Fermi Research Institute on campus, the center doors are made of stainless steel like an old diner. And if you go up the stairs and then down the creaky elevator, you emerge in a warren of white corridors and wooden doors. The basement is full of abandoned science labs, labs that have been empty for ten years maybe, with equipment scattered everywhere, old notebooks, chemical residue, dust, dirt, soot, stacked furniture, whining ventilation. Acids left over in gallon jugs of thick glass. A bottle of wine left as if it had been opened to celebrate the last experiment just before the whole place was summarily deserted. Dark trees shone through the high windows.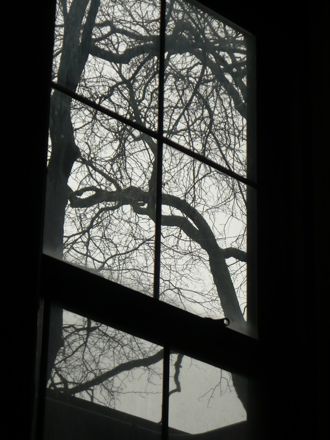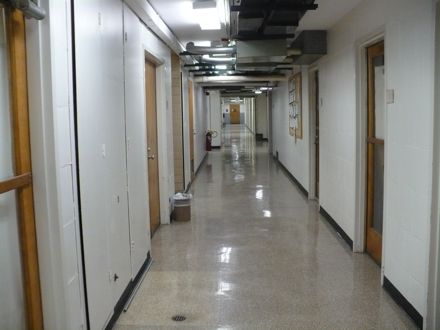 The university is planning to renovate it all, they say, but what with the economic crisis, that might not happen next year. So some of the space has been borrowed.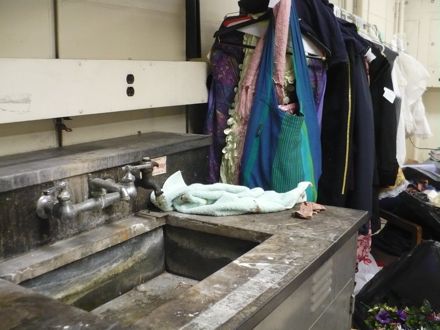 A rack of costumes, a blue and green striped bag, a pink scarf, a green towel, a striped coat, a bit of floral decoration on the floor. Juxtaposed on the abandoned horizon of a decrepit sink, old metal taps greening at the base, a tap for distilled water, an electrical supply strip above the sink, lines of salts in the basin like geological strata, green and grey, a decayed piece of clear tape.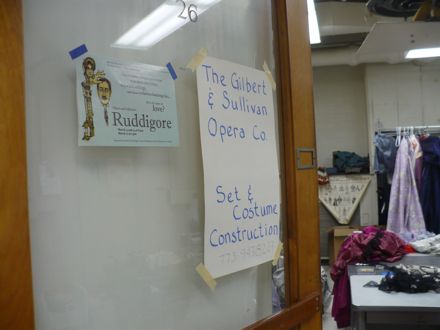 The local Gilbert & Sullivan Opera Co. have taken up residence in this basement, needing space for set & costume construction. This, as you can see, is the chemistry lab-cum-costume-shop.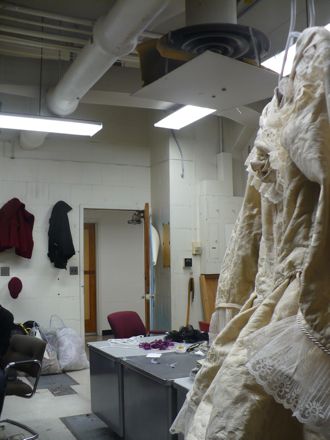 Frilled dress the color of a desiccated lemon, cratered with shadows, dangles beneath the criscrossed pipes and the circular air exchange and the perpendicular fluorescent strips.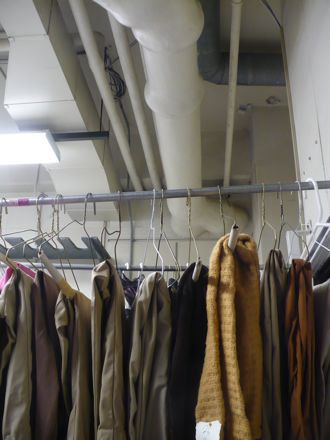 The lines of the clothes paralleling their coat hangers, the coat hangers paralleling the pipes, the ceiling all painted white as if to reflect as much light as possible.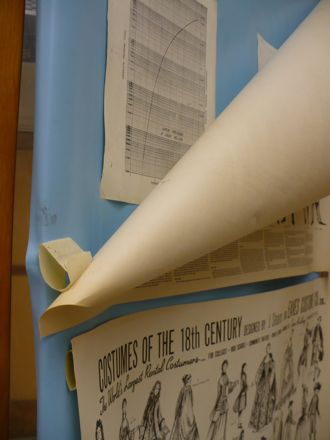 A poster "Costumes of the 18th Century" was taped up on top of a graph of the vapor pressure of liquid helium, but it is falling down.
Little spools of thread in a grid of color in a monochromatic space.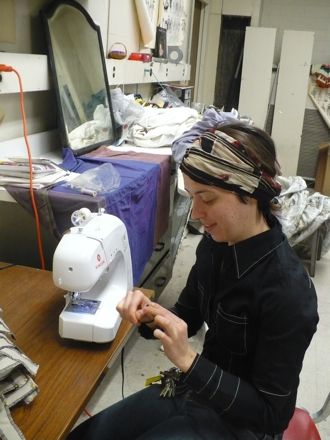 My friend Soule was designing the costumes. She reputedly owns more sewing machines than she has teeth.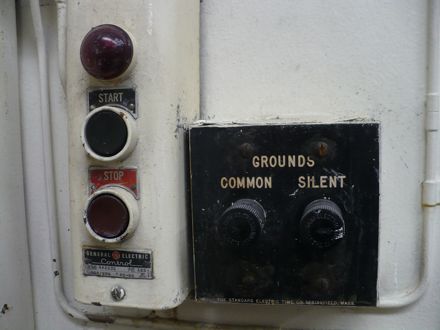 In the corner behind the sewing machines, study-looking electrical controls were waiting for someone to press STOP.
There's something surreal about this juxtaposition of things we see here, the texture of chemical dust crossed with the texture of gauzy lace, chromatic color slapped across white piping, abandoned lab benches masked by temporary theatre workshops. When I was writing about campus borders back in December, I had this idea that academic space was this enclosed single thing, fairly homogeneous, closed off from the outside world by police and custom, structured according to uniquely academic criteria. Here we have the opposite: academic space seems like a polyphonous thing, where old spaces are abandoned to decay while new totally different spaces emerge on top of them, where radically different kinds of cultural worlds overlap – the theatre and the laboratory. Here, academic space looks less like a sacred vessel for self-conscious scholastic profundities, or even any kind of unique thing at all; it looks more like the heteroglossic novel described by Bakhtin, where a single genre incorporates all kinds of disparate, even incompatible subgenres within it.
I have a lot of other pictures of this show whose costumes are being assembled in these photos, and of the university theatre, Mandel Hall, where it was produced, and I hope soon I'll have time to think more carefully about what it means for academic space that it can incorporate theatre and all the very non-academic, even anti-academic, worlds of show business. (I could call it "performing arts," but that makes it sound too dignified.)