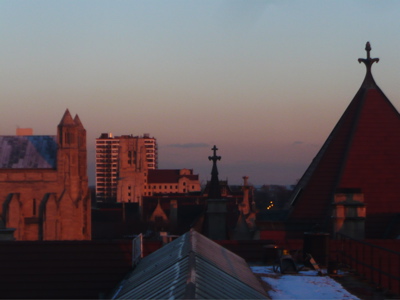 The University of Chicago decorates the tops of its buildings with crosses. They are mostly lost from view, unless you climb to the top of the towers and look out over the rooftops to see them, crosses silhouetted against the sky.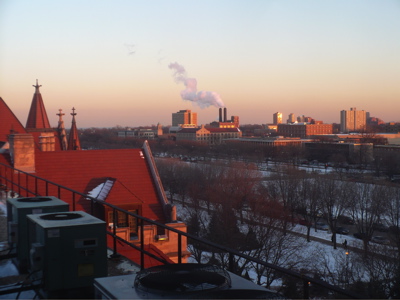 The crosses are defended by faux crenellation. A bit of industrial equipment is probably invisible from below. Tiny snow patches linger in the north-facing slopes of the roof. The roof serves, after all, to keep out the sky, its snow and rain, its wind, and all other unwanted intrusions into scholarly meditations.
Part of the university's moat, the Midway, is visible farther off, just before the row of buildings in the background. It is full of trees and roads and large empty space that serve, intentionally or not, as barricades against the poor neighborhoods to the south. The space south of the Midway has a dangerous reputation in student culture – Amadou Cisse was shot and killed there last year. There is actually a ditch in the center of the Midway, rather like the crude dry moats in early wooden castles. It functions similarly to the cliff in Morningside Park that protects Columbia University from Harlem. They are blunt instruments for protecting class differences.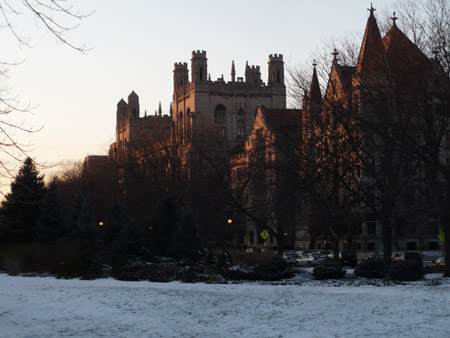 At dusk, the university ramparts stick out from the thickety trees which conceal long rows of parked cars. The top of the ramparts is the edge of the sky. Crosses and turrets guard the top of academic space, forgotten symbols of God and War.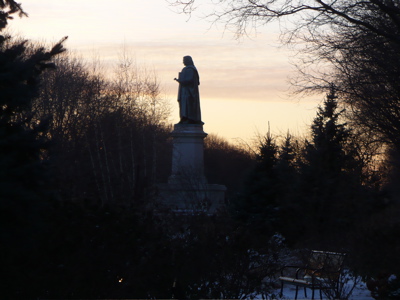 The status of Linnaeus, god and symbol of academic classification. It's symbolically interesting to put a symbol of academic order and academic power in the park that simultaneously serves as the university's south border. If academic power consists in the legitimate right to classify the world, as Bourdieu would have put it, then it's interesting too that Linnaeus faces south, as if the emissary of academic classification to the farther South Side.
Linnaeus, you'll see, is also hedged in by trees. Curious that the tree, far from being an unwanted intrusion of natural order into the planned and regulated campus space, is so often co-opted as a symbol of academic splendor and wealth. (Not to mention other funny semiotic resonances: the "tree of knowledge"? the "groves of academe"? why these tree symbols?) But trees are also cut down when administrators find them a nuisance – and then sometimes there are controversies, particularly with environmentalist groups who defend their groves against what are invariably plans for new development. How do these protesters imagine the university's relationship to trees and to the land?