Last month I went to a debate organized at the Sorbonne, "Is the  university burning?" (L'Université brûle-t-elle ?) Appropriately, it ended in chaos; but  midway through, there was a bit of performance art.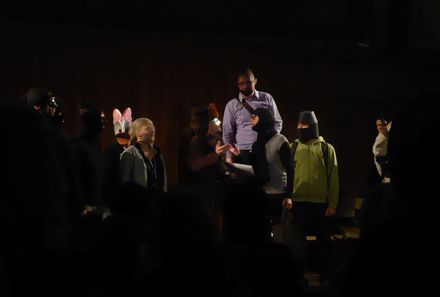 Actors in masks, some with stockings over their heads, made a pretend argument for burning the university. For the foreigners in the audience, a disjointed translation of their performance was projected on a screen like so:
We want Godard, Proust, the Princess of Cleves, not commercial trash culture

Let us burn the university! No! The University is not for profit! It is there to create more freedom, more riches (that are not material), "Latin is useless and that's why it's beautiful!" against the death of "dead languages", let us burn the university! In the name of all erasmus students, I would like to say I had no time to write a speech, because I work to pay my way and so we say "let us burn the university"!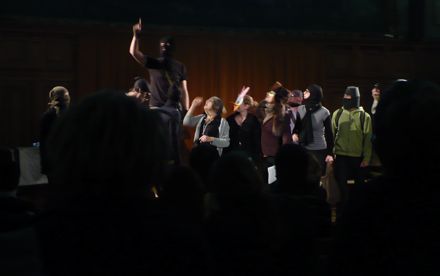 [They shouted their discourse from the stage.]

Experiment time! First we will build a fire, the first spark. Take your sheet of paper, fold it over, then again, and cut it, and lick it and keep your strip of paper (etc),

[The actors circled back into the aisles of the large lecture hall with sheets of paper, with which they mimed an effort to create fire.]

It doesn't work!!!!!

[—they said as they pretended to discover that rubbing two pieces of paper together doesn't make a spark.]

It would be crazy; it would be like killing oneself; like putting one's head in the freezer, like throwing oneself under a car, like…

[As if they were delighted to discover that they didn't need to burn the university after all… but the translation trailed off and the actors came through the aisles hugging the audience. Even including the ethnographer, yours truly.]