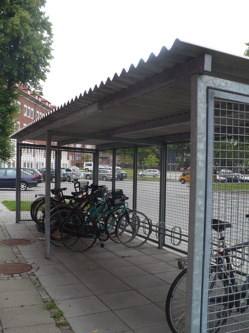 This is something I've never seen in the United States: a bicycle rack with a roof to protect the bicycles from the elements. Not much to look at. Not even designed to take high-security U-Locks like an American university bike rack. Mundane. But unexpected, to my foreign eyes.
Compare to an American version: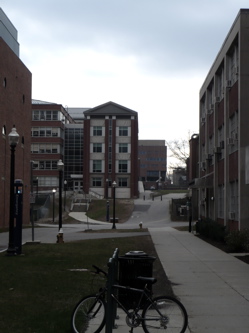 The American version isn't much to look at, but you can see it has high, thick bars, no roof, and is placed next to a large trash can. The Danish version, by contrast, is roofed, has fairly thin metalwork rather than heavy bars, and was placed beside a rather small trash can (though that wasn't in the photo). A similar type of roofed bike rack was also found near a Swedish university I visited, to give one tiny point of comparison. So what, you ask? I suppose it simply seems good to remind ourselves that cultural (and, most likely, meteorological) differences play a visible role in so mundane a device as these bike racks… incidentally, I haven't noticed large bike racks at French universities at all, but possibly haven't been paying attention.
The Danish image, by the way, was taken at the Danish School of Education, where I had the chance to see Sue Wright earlier this summer. She and her colleagues do marvelous research about neoliberal restructuring of English and Danish universities, which I ought to write about more in the near future.