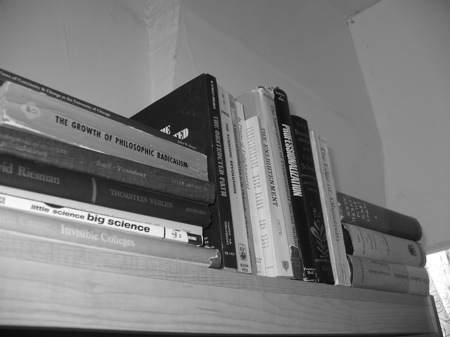 These are the books I got from George Stocking's office when he decided to give away his book collection in December. They are a strange memorial to the ending of a scholarly career.
He had sent out a half-comic announcement:
Free Books, Offprints, Journals, Dissertations, etc. from the Library of G.W.S.

Available Wednesday, Thursday, Friday this week in Haskell 213, 10am-noon; 1pm-3pm

First Come, First Served. Bring a Back Pack, Box, Carton, or Wheel Barrow
I would have liked to have brought a wheelbarrow, but there's no way to get it up the stairs and no place to put that many new books on my shelves.
I wonder whether it was hard to part with the books. Maybe at a certain point in time one ceases to be excited about book collecting. It makes me wonder: are all humanists and social scientists also bibliophiles? My first temptation in someone's office or living room is to inspect the bookshelf. Walter Benjamin seems to have taken this attitude to the height of fetishism: "Inside him there are spirits, or at least little genii, which have seen to it that for a collector—and I mean a real collector, a collector as he ought to be—ownership is the most intimate relationship that one can have to objects." So he ends the peculiar essay, "Unpacking My Library." And he commented earlier on: "Writers are really people who write books not because they are poor [and hence unable to purchase books], but because they are dissatisfied with the books which they could buy but do not like."
Stocking wasn't giving away copies of his own books, I note. No, it was copies of other people's books which he no longer needed or couldn't bear to bring home to his house. He was giving his office space back to the department. There were a lot of hardcover books that I would not have paid for today. Old editions of classic books in my field, Diana Crane's Invisible Colleges, Jencks and Riesman's Academic Revolution. Old but well-weathered paperbacks, philosophy of science, Ludwick Fleck's Genesis and Development of a Scientific Fact (an apparent precursor to modern science studies), a thin paperback by Santayana whose spine had never been cracked, books on the Enlightenment that are so old that their authors sincerely believed that there really was an Enlightenment that brought an end to the medieval darkness. I don't know anyone who seems to believe that now, but it has a charming mythical structure to it.
There was a decaying copy of John Howard Griffin's Black Like Me. It's the most popular of the books I got and the only one I've read so far. The tale of a white guy who had his skin darkened in 1959 and reports the experience of being black in the south. Interesting that Stocking was reading it. It's a first printing. Must have been a popular sensation when it came out.
To be given someone's books is to share a small piece of their history as a reader and collector. To be given books from someone two generations earlier is more like entering a time machine. You see which books mattered long ago to someone doing research in a different era. You might have heard of the titles but it wouldn't occur to you to buy them new, if it were even possible to do so. But soon enough they blend into the long stacks of books on your shelf and you have to sift just to find them.
I know I got some books from my grandfather (who was, I confess, a professor), but they start to disappear into the shelves. I'm looking through for them. Some Hume and Dewey and Whitehead, I think, and archaic anthropology, The Golden Bough and The White Goddess, Gramsci and Raymond WIlliams, The Power Elite and The Twisted Dream. To open the cover is to enter a different imaginative world, where even the scrawled marginalia become interesting because you know the person writing.
The beginning of the Twisted Dream sounds like it could have been written this week. "The United States is in the midst of a developing social crisis, at once economic, political, and moral, simultaneously domestic and international…"